We've shared a couple posts on changes to the Indiana football gameday experience at Memorial Stadium (here and here), but let's take a more detailed look at some of the updates.
The following notes are taken from an IU Athletics press release (Outstanding photos courtesy of yours truly):
Ribbon Board: A large "ribbon board" on the façade of the north end zone to provide more in-game information and entertainment. The ribbon board is 200 feet long and three feet tall and is valued at $300,000.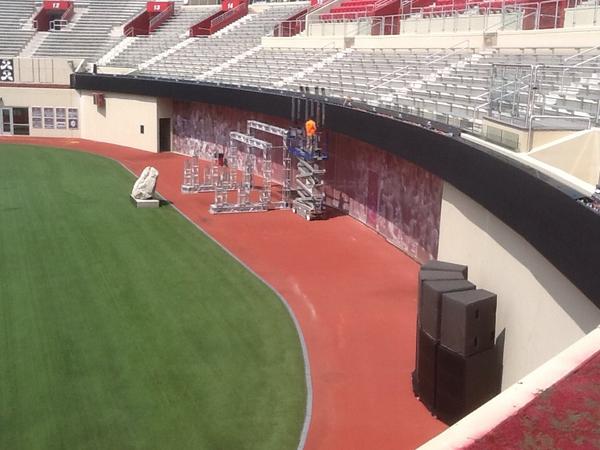 Purple Lot Improvements: The Purple Lot has been paved, with the number of parking places increased from 1,200 to 1,850. The university also created eight acres of grass greenscape, which will include 730 new trees to be planted this fall. The lot also boasts 22 new flag poles. The total cost of this project was $6.8 million paid for by IU. According to IU athletic director Fred Glass, the lot will be open and operating for Saturday's Indiana State game.
Engagement: Ushers and event staff will wear large buttons saying "Ask Me. I'm Here to Help." Fans will be welcomed to IU and thanked for visiting. Ushers and event services staff will have access to "Hoosier Bucks" for use at concession stands, that they may provide at their discretion to fans who may be in need of a little love as the result of a spilled drink, dropped hot dog, or the like. Fans will be encouraged to get assistance for any unruly or abusive behavior through "Don't be that guy" messaging and texting event services to alert them to problems at (812) 369-MYIU (6948).
Old Oaken popcorn: Popcorn buckets that look like the Old Oaken Bucket.
Better connectivity: Updated Digital Antenna Systems (DAS) is being installed to upgrade cell phone and texting connectivity for both AT&T and Verizon. This system will be operational by the second home game on Sept. 27 against Maryland.
Firing Up the Defense: "Tap Outs" (when the defense gets the ball back on downs or by a turnover) will now be tracked in the northwest corner of Memorial Stadium (in the view of the students) as well as on the video and ribbon boards. McDonalds will provide buy one, get one free double cheeseburger coupons if the team gets ten or more Tap Outs or scores over 50 points. If the team does both, fans will also get a coupon for large fries.
More Fun: A new remote camera will go into tailgate lots, stands and concourses to show fans on the jumbotron. More t-shirts will be shot into the crowd from the t-shirt Gatling Guns. We'll have a "selfie station" at Memorial Stadium to encourage fans to text and tweet photos to family and friends. Tweets by fans will also be shown on the jumbotron.
Green water: As part of the Greening Cream and Crimson sustainability initiative, fans will be allowed to bring in empty water bottles to fill up with water at water stations inside the stadium.
Countdown to kickoff: New "Countdown Clocks" have been placed at Kilroy's on Kirkwood, Kilroy's Sports, TIS, and the IMU counting down the hours, minutes and seconds to kickoff for the first game. In addition, a digital billboard in Indianapolis on 465 will also have that countdown plus real time updates of the ISU game score.
Social helmets: Staying engaged home and away, IU will reveal what helmets the team will wear via social media and publish spirit posters for the away games as well as the home games.
"Victory Flag": That red IU flag waving over Memorial Stadium now has a name. Any guesses? Victory Flag is now the official designation of the traditional IU flag such as the ones that fly in and around Memorial Stadium. "Victory Flags" will be prominently marketed online and in campus stores as such. This week IU Athletics is distributing 100 Victory Flags to Bloomington businesses encouraging them to fly or hang the Victory Flags in their storefronts during game weeks. IU Athletics social media will post pictures and retweet pictures of IU fans with their Victory Flags.
The Million Fan Challenge: This initiative will track the total number of fans attending all IU events, starting most prominently and significantly with football. Our goal is to attract at least 1,000,000 fans to IU Athletics events (last year we totaled 890,000). Prizes will be given at various milestones (50,000th, 75,000th, 100,000th, etc).