WHAT HAPPENED: Indiana finished with five players in double figures to knock off No. 22 Iowa, 86-84, in the Big Ten opener before an announced 2,888 Thursday at Assembly Hall. The Hoosiers' 86 points were their most in a Big Ten game since 2008, while the win marked IU's first over Iowa since 2009. It was Indiana's second win over a ranked opponent in the Curt Miller era and extended the Hoosiers' record season-opening winning streak to 14 games.
WHO MADE IT HAPPEN: Once again, Larryn Brooks led a potent Indiana attack with 20 points, while dishing a career-high nine assists. But this was anything but a one-player show. Karlee McBride hit her first three 3-pointers off the bench en route to a career-high 14 points. Most importantly, her long-range shots helped eat through Iowa's zone and give Indiana an early cushion. After the game, Miller called McBride the Hoosiers X-factor. Iowa coach Lisa Bluder agreed.
"Funny you called her that, because that's the play they called it when she hit those 3s," Bluder said. "She did a great job off the bench."
And don't forget about reserve center Simone Deloach, who posted a double-double with 10 points and 14 rebounds. Miller's approach to the center position has been one in which he goes with either the hot hand or the best matchup. Sasha Chaplin has started every game this season, but it's both the flow and trend of the game that dictate which player will see the most minutes. Thursday it was Deloach, who played 30 minutes.
"One of the things we have the luxury of having is three senior centers," Miller said. "It's center-by-committee in our program and they're OK with that. Some nights it's been Sasha. Some nights it's been Simone and some nights it's been Lika (Taufa). So, we are center by committee and tonight the right call was Simone and she gave us quality minutes."
Deloach, of course, was called for a deadball technical with 33 seconds to play, when she inadvertently elbowed Iowa's Samantha Logic while attempting to free herself from a swarm of Hawkeye defenders under the basket. Officials approached the scorers table to determine a penalty for the play, while Miller objected that the elbow never would have been dealt had the officials called the initial foul on Deloach.
"I feel bad for her with her deadball technical," he said. "She's got to learn to keep the ball high and strong and not throw an elbow there at the end, but we don't win without her. We'll remind her about that tomorrow (and), 'Don't feel bad about that play. Learn from that play, but we don't win this game without you.'"
KEY STAT: Iowa shot only 3-of-17 from 3-point range. Shutting down the Hawkeyes from beyond the arc was a point of emphasis entering Thursday's game, with Iowa leading the Big Ten with 7.7 3-pointers per game.
QUOTE OF THE NIGHT: "I'm not sure who we lean on out there. We've got a bunch of freshmen out there. Tabitha is in her first year here. Simone has played sporadically throughout her career. Honestly, we're winging it out there a little bit with leadership, but there's a lot of will and confidence and determination. More than anything, there's chemistry with our team. They were going to fight. They were going to go down together or we were going to win it together."
— Curt Miller on who he leans on down the stretch in games.
MIKE'S 'WHAT THE HECK?' MOMENT: Oh, you want a 'What The Heck?' moment? Boy, do I have one for you. This was easily the most glorious of all the 'What The Heck?' moments this season. It's hair, but not just any hair.
It's Larryn Brooks' — dare I say iconic — hair copied into wigs worn by members of the IU pep band. Here, I'll show you: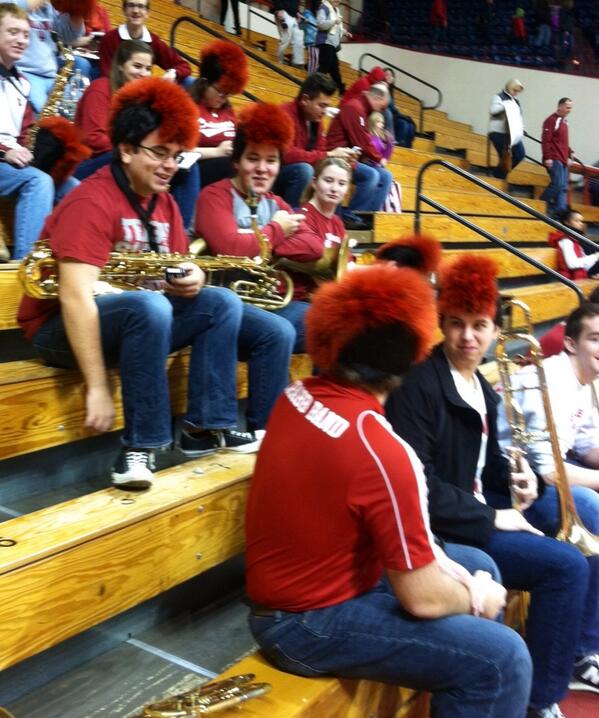 WHAT DOES IT MEAN?
It means that Indiana won't be the underdogs for much longer. Wins like this one change the perception of a program that has been the doormat of the league for so long. It means the Hoosiers could very easily find themselves ranked in the top 25 come Monday. It means their run through the non-conference season was anything but a fluke.
Indiana came prepared for this one. The Hoosiers were confident and it showed from the early moments of a game they controlled for much of the night. Iowa entered Bloomington not only with a No. 22 ranking, but a pair of wins over ranked opponents (No. 14 Dayton on Nov. 10 and No. 22 Syracuse on Dec. 5). The Hawkeyes have beaten teams not simply with one player, but with a bevy of them. They finished with four players in double figures — including Logic's game-high 25 — in a guard-heavy lineup that aimed to go toe-to-toe with IU. Most encouraging for the Hoosiers is that they didn't back down.
"I worried about the nerves," Miller said. "We talked as a staff, 'What can we do on game day to lighten the mood?' because it was here. Big Ten was here. This was why they chose to come to a school like Indiana, then to start off with a nationally ranked team that they've heard for 72 hours how good each and every one of their players are — this top 100 player and that top 100 player. We tried to keep it very light today, and we tried to take the underdog role."
Just how long Indiana can claim that role remains to be seen. No. 17 Purdue awaits in West Lafayette on Monday. Should the Hoosiers find a way to make it two in a row over their in-state rivals, then perhaps talk may shift from rankings to plans for March.
NOTABLE:
— This was Indiana's first win in its Big Ten opener since beating Northwestern on Dec. 30, 2010.
— The Hoosiers set a season-high with 19 assists — their most since dishing 19 on Feb. 27, 2011 against Iowa.
— IU's 47.8 percent effort from 3-point range was its best of the season.
— Thursday marked the second time this season that Indiana finished with five players in double figures.
— It was also the first time this season Indiana had two players, Simone Deloach and Tabitha Gerardot, finish with a double-double. For Gerardot, it was her first double-double of the year.
— Taylor Agler scored in double figures for the fourth time this season, pouring in 13 points. She shot 4-of-7 from the field, while tying her career high with three 3-point field goals.
— IU is offering a fan bus to Purdue on Monday. Go here for details:
Video above courtesy of IU Athletics