WHAT HAPPENED: Indiana hung with Penn State for much of the night, coming within two possessions in the final minutes, but couldn't do enough to overtake the No. 11 Nittany Lions in a 71-63 loss before an announced 2,115 at Assembly Hall. Penn State star Maggie Lucas scored a game-high 32 points, while Larryn Brooks led the Hoosiers with 16 and Simone Deloach added a double-double with 13 points and 15 rebounds. It was the Nittany Lions' sixth consecutive win over Indiana, but the Hoosiers put up a fight. They turned around a six-point halftime deficit by outscoring the Lions 14-3 to start the second half. The run gave Indiana its largest lead of the game at 45-41 with 14:22 to play. Lucas hit a 3-pointer on the other end before Tabitha Gerardot answered with a baseline jumper. From there, however, Penn State regained its form. The Lions put together a 16-5 run of its own and built its lead to as many as 10 points with 2:38 to go. The Hoosiers scored six straight points in the final two minutes to cut it to a two-possession game with 44 seconds left, but by then it was too late.
WHO MADE IT HAPPEN: If there was any debate prior to this one, let Thursday's game settle it. Maggie Lucas is the best player in the Big Ten. Lucas hit the tough, contested shots, she hit the gimmes and everything else she managed to create with her quickness and basketball IQ. Lucas finished 10-for-16 from the field and 4-of-7 from beyond the arc. She also had six rebounds. In the process, Lucas recorded her 500th rebound in the first half, becoming only the sixth Big Ten player in history to accumulate 2,000 points, 500 rebounds, 250 assists and 200 steals in her career.
When he was asked in his postgame press conference what, if anything, Indiana could have done better to stop Lucas, Miller deadpanned to reporters.
"We could ask for six players to play," he said. "We made mistakes in zone and rotated to a penetrater and left her open. We made some mistakes in man and rotated to help side when you probably should stay on Maggie Lucas. But she also made a lot of difficult shots and that's what she does. There's a reason she's one of the all-time leading scorers in this conference's history. There's a lot of good players on that team. Without her tonight having a monster game, we may have pulled the upset. She wanted the ball and made big shots. She did what we weren't always capable of doing."
I thought it was interesting to watch Lucas warm up before the game. First, she was the only Penn State player on the floor 90 minutes prior to the tip. She lined up at the free throw line for practice, took a few steps back toward the top of the key and shot some more, then stepped back even further for more 3-point work. This was going on when I arrived at 5:30 and continued until 6, when she took a seat on the Penn State bench and watched Indiana warm up in front of her. She's pictured below, bottom right (You may have to right click and open in a new window/tab to see her in the shot):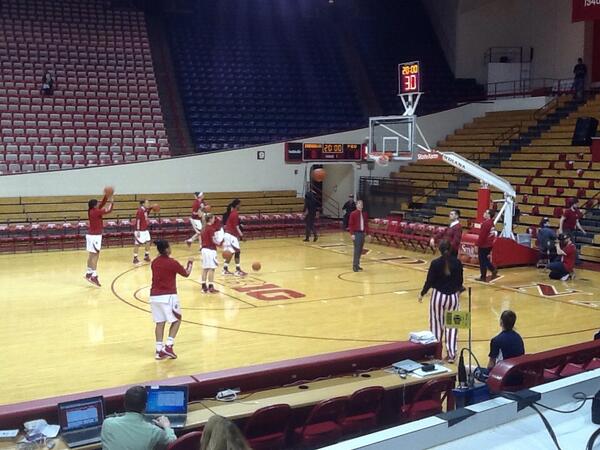 KEY STAT: I can't point to only one. Here's why: Indiana hung with an enormous Penn State squad for much of the night. The Lions, who own, pound-for-pound, one of the toughest frontcourts around, were simply outmuscled at times. Much of that credit goes to Deloach, who was, without question, the best post on the floor Thursday. Although Penn State out-rebounded Indiana, 41-37, the Hoosiers grabbed 17 offensive rebounds to the Lions' seven.
That ferocity leads into this next stat: Indiana outscored Penn State 17-4 on second-chance opportunities. Basically, what Miller said about Lucas above is correct. The Hoosiers were truly only a couple Lucas missed shots away from pulling off a huge upset of first-place Penn State.
But there was also this.
Miller said earlier this week that he thought his team relied too much on 3-pointers last month when Indiana tossed up 30 in State College. Well, tonight the Hoosiers took 34 attempts from beyond the arc. Stunningly, Larryn Brooks said after the game that, "I don't think we took enough, actually."
Indiana finished 8-for-34 (23 percent) from 3-point range and shot 24-for-71 (33 percent) for the game.
Here's what Miller had to say:
"It's different because I don't think we took a lot of good 3s there," he said. "We worked hard on what we thought they were gonna do and how we were gonna counter it. I thought we got a lot more open looks (Thursday). Now, we threw up some at the end of shot clocks that are Hail Marys, but we had a lot of open looks against man and zone that we didn't have last time. That's all you can do. You feel a little bit helpless as a coach. All you can do is get them to understand how we can attack and get to the open shot. Then they gotta step up and make some of those open shots."
QUOTE OF THE NIGHT: "It's fun to think about where we could be three years from now as we continue to grow and this current (freshman) class continues to get better, and we bring in more classes," second-year IU coach Curt Miller said. "But there are no moral victories. I didn't come here to come close. I didn't come here to 'Rah, rah, we lost by eight.' I came here to built a program that rivals Penn State."
— Curt Miller on his program's progression from Year 1 to now. The Hoosiers lost to the Lions at Assembly Hall by 22 points a season ago.
WHAT DOES IT MEAN: Indiana has some good wins on its postseason resume, but this would have (and could have) been the signature win that every NCAA Tournament hopeful needs. It also would have gone a long way toward helping Indiana achieve a .500 Big Ten season or better. Now, the Hoosiers head to Nebraska to play the Huskers, who present a very big style mismatch for Indiana. We'll preview that game in the coming days, but suffice it to say that it's very unlikely the Hoosiers pick up the win in Lincoln. That's what made Thursday — and next week's home games against Michigan and Illinois — so important.
Although not catastrophically bad like the Northwestern debacle, Thursday's loss was a disappointment. Indiana was in it with a chance to win it. Instead, the Hoosiers relied too much on deep balls late, finishing the game by missing their last nine 3-pointers. But that's yet another symptom of a young team. That Indiana was even in a position to say they could be disappointed by a close loss to Penn State is another huge step in the right direction.
I'm going to write a full story on this eventually, but it's worth saying again after Thursday's game. Indiana absolutely must sign some kids who can play the post against teams like Penn State, Michigan State, etc. There are a lot of shooters on the way. Curt Miller likes players who can score, and obviously so. But the one position he has not seriously addressed yet is a true, game-in, game-out Big Ten-style post player. I'm not of the belief that Jenn Anderson is the answer. I could be wrong. Jenna Allen, a Bedford North Lawrence forward signed as part of the 2015 class, is a step in the right direction. But Indiana needs to quickly target some future frontcourt prospects with athleticism and the ability and willingness to bang bodies underneath the basket. That's a large part in how you beat the Penn States of the women's basketball world.
Miller rightfully noted after the game that rebounding and second-chance opportunities aren't about height or size. He's absolutely correct. It is, as he said, about want-to and hustle. But Indiana will need to replace the physicality and/or size of Deloach, Sasha Chaplin, Tabitha Gerardot and even Milika Taufa in the coming months. Having players of that style plays a big part in winning basketball games in this conference.
But looking at the present, Indiana is still in position to play meaningful March basketball. Barring four or five more losses to close the regular season, the Hoosiers will find their way into a postseason tournament. Thursday would've gone a long, long way toward establishing that possibility as a reality. It's part of the complexity of where this program currently stands. Obviously, the Hoosiers' aren't even close to being where they want to be in the rebuilding phase. Yet, here they are almost knocking off the best team in the league. There is teaching and there is winning. Right now, Indiana is trying to find a way to balance both.
When, and if, it strikes that balance this season, the Hoosiers will be supremely rewarded.
Video above courtesy of IU Athletics